News
Opinion
Persecution in Africa
Persecution in Nigeria
Why Nigeria Could be the Next Afghanistan | Opinion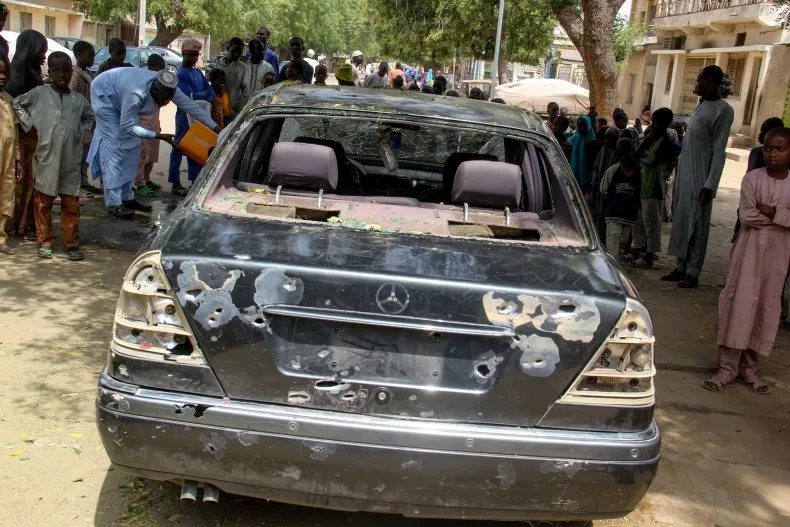 By RACHEL MINER | Newsweek | April 4, 2022
Since the chaotic withdrawal of United States troops from Afghanistan, thousands of Afghans belonging to religious minorities have been targeted, persecuted and killed for their faith. On the other side of the world, a similar scene is unfolding in Nigeria, except without the same news coverage. Very few know the genocide unfolding at the hands of Boko Haram, known as the "Nigerian Taliban," and associated groups who are running amuck with seeming impunity amid limited government response.
Boko Haram, a jihadist terrorist group whose name means "Western Education is Forbidden," has targeted Christians and non-conforming Muslims in north and central Nigeria for the past 10 years. The U.N. Refugee Agency (UNHCR) estimates that Boko Haram activities have internally displaced over 2.9 million Nigerians. The survivors of violent attacks are most often children, who suffer the loss of loved ones, livelihood, access to education and physical and mental health, among many other challenges. Boko Haram frequently kidnaps young children and holds them for ransom, shuts down public schools and infiltrates existing gangs. They also radicalize large groups of young men to terrorize the northern regions of Nigeria.
To highlight one recent incident, in January 2022, Boko Haram attacked the village of Pemi in northeastern Nigeria, kidnapping 17 girls, burning multiple churches and killing, in their own words, "many Christians." Attacks of this kind have become tragically commonplace. In April 2014, Boko Haram kidnapped 276 young girls which prompted the international campaign #BringBackOurGirls. The response was overwhelming but short lived. Hundreds of girls remain missing today, including Leah Sharibu who was kidnapped from her school along with 110 other girls in 2018 by a Boko Haram faction. All the surviving girls were eventually returned to their families, except Sharibu, who continues to be held as a "slave for life." Kidnapping continues both from Boko Haram and vigilante groups, becoming the "fastest growing enterprise in Nigeria."
Nigerian security forces were stretched thin from countering gangs even before Boko Haram began to penetrate the country in 2009. In December 2021, 47 people were killed by Fulani gunmen aided by Boko Haram and their partner group Islamic State in West Africa Province. The long conflict between Fulani tribesmen and Christian farmers is exacerbated by a scarcity of water and land, however, the United States Commission for International Religious Freedom (USCIRF) argues that the conflict has inherent religious freedom undertones which must be directly addressed by the government.
Local terrorist and vigilante groups aren't the only ones perpetuating religious freedom abuses. Government groups target individual "prisoners of conscience" for their faith or their lack of faith. Mubarak Bala, a prominent atheist, was persecuted intensely by his family and then arrested for a social media post regarding the afterlife that is against Muslim doctrine. Bala may be charged under blasphemy laws or even sentenced to death. Another prisoner, Yahaya Sharif-Aminu, a Sufi Muslim, has been imprisoned for praising an imam over the Prophet Muhammed. Protestors burned his home to the ground, and he was sentenced to die by hanging.
The United States Department of State can utilize their power and resources to continue to recognize the severe human rights abuses that occur in Nigeria, and formally acknowledge the unfolding genocide through the mechanisms already in place. Each year the State Department releases a report outlining religious freedom violations in every country in the world and assign Country of Particular Concern (CPC) status to those countries with particularly egregious religious freedom violations. CPC designation has enormous influence over U.S. foreign policy and international response.
Nigeria was designated a CPC in 2020, however, just days before the 2021 report was announced, Nigeria was mysteriously removed from the CPC list. The removal of Nigeria as a CPC will further shield Nigeria from the public eye. In response to the State Department's removal, several dozen NGOs and advocates signed a letter in December 2021 addressed to President Joe Biden, urging him to recognize the atrocities in Nigeria and encouraging CPC designation. Additionally, seven Republican Senators stated in a letter addressed to Biden, "Religious people in Nigeria face severe persecution at the hands of radical terrorist groups and even their own government," and further requested Nigeria be restored as a CPC.
In the meantime, non-governmental organizations (NGO) work with limited resources to respond to growing humanitarian needs in Nigeria and advocate for more attention to these human rights abuses. My work as CEO of Bellwether International has put me in contact with countless courageous men and women in Nigeria who risk everything to enjoy the basic rights and privileges that so many take for granted.
One such group, Stefanos Foundation, recently reported on their extensive work in IDP (Internally Displaced Person) camps saying, "We face several dangers … danger of abduction, danger of targeting or attack and danger of creating unmet expectations such as not being able to meet all the needs of the IDPs. Sometimes promises are made of returning with more help but due to lack of funding, not keeping promises can also work against us." There is also incredible risk of being hit by stray bullets from conflict or becoming a victim of land mines placed by terrorists and other vigilante groups.
I asked the director of Stefanos Foundation, Mark Lipdo, what motivated him to continue to help and he replied, "Helping others is, by extension, helping ourselves, as no one knows who will be affected next." When freedom of religion or belief is protected for one, all are protected. The efforts of Stefanos Foundation and Bellwether International are supported through generous donations from the public and private donors, but there is an immense need for additional humanitarian resources and financial support.
It is also critical to continue raising awareness on social platforms in order to help generate an international response, as we have seen with recent atrocities unfolding in Ukraine, and the Winter Olympics in China. Additionally, individuals can contact their representatives and urge them to restore Nigeria as a CPC. The international community can certainly do more than it is doing now. We need not repeat the mistakes of Afghanistan.