Events
News
Persecution in Africa
Persecution in Nigeria
President Buhari's 'conversation' at U.S. Institute of Peace rocked by protests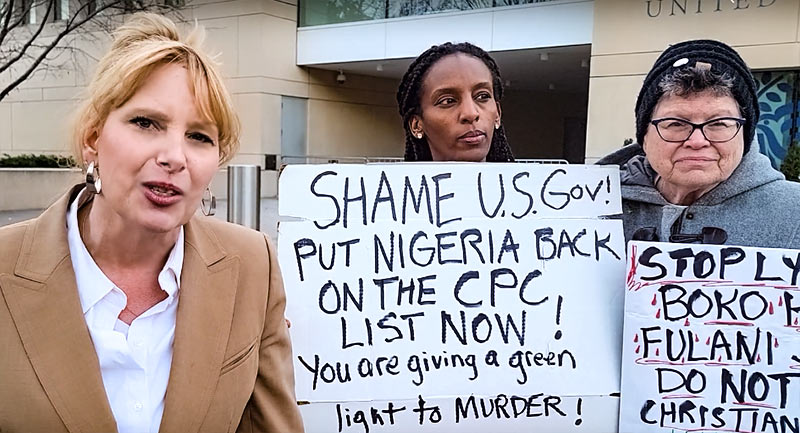 Simon Ateba | Today News Africa | December 22, 2022
Nigerian President Muhammadu Buhari whose successor is expected to be elected during the February 2023 general elections was at the U.S. Institute of Peace in Washington D.C. on December 16, a day after the conclusion of the U.S.-Africa Leaders' Summit President Joseph R. Biden Jr. hosted December 13-15, and seven years after his last visit to the Institute following his defeat of then-President Goodluck Jonathan in 2015, which made him the first Nigerian politician to unseat an incumbent head of state.
During his speech and interaction with Ambassador Johnnie Carson, a veteran diplomat President Biden has just appointed as special representative for U.S.-Africa Leaders Summit implementation, Mr. Buhari, who is completing his second term in office and is to hand power to his elected successor in May, said that he expects a credible election to choose his successor in just 10 weeks.
Some have noted that a credible, publicly accepted result and a peaceful transfer of power could help consolidate democracy in Africa's most populous country following democratic setbacks in the region, notably seven coups in 26 months in the Sahel and West Africa.
The invite announcing Mr. Buhari's visit to USIP described the occasion as "a conversation with Nigerian President Muhammadu Buhari: Reflections on the State of Democracy in Nigeria." Many Nigerians and Americans who traveled from near and far expected to hear from Buhari and ask him questions.
Many, including, Emmanuel Ihim, President of Diaspora Alliance, who traveled all the way from Texas, were then surprised that Mr. Buhari took no questions from the audience, and that key issues affecting Nigeria were not raised by Ambassador Carson.
Others, like Dede Laugesen, Executive Director of Save the Prosecuted Christians, who protested during Buhari's 'conversation' and was escorted out of the room, described Mr. Buhari as "the mastermind behind the genocide of Christians in Nigeria."
"I'm out here today with my good friends and fellow activists who are protesting President Muhammadu Buhari's conversation here at the US Institute of Peace because President Buhari is the mastermind behind the genocide of Christians in Nigeria," Laugesen said. She added that Buhari is not a man of peace and that she wanted to ask him about Christians in Nigeria.
Faith Mcdonnell, a human rights advocate for over twenty years, another protester, described Buhari's invitation to the U.S. Institute of Peace as "appalling", wondering why an invitation was extended to "the genocidal president of Nigeria" who is "responsible for not only directly, but allowing the continual slaughter of Christians in Nigeria by Boko Haram and Fulani and calling it an issue of climate change.
A Nigerian lawyer who traveled all the way from baltimore said that she was disappointed by President Buhari's showing. She asserted that issues affecting Nigeria, such as corruption and mismanagement of resources were not addressed during Buhari's conversation.
Dr. Gloria Samdi-Puldu, who hails from Adamawa State in northeastern Nigeria, and is the global director of Give Her Voice and president of the LEAH Foundation, traveled all the way from Nigeria, to ask president Buhari about Leah Sharibu, a Christian girl who was among the 110 schoolgirls aged 11–19 years old who were kidnapped by the Boko Haram terrorist group from the Government Girls' Science and Technical College (GGSTC) in Dapchi, located in Bulabulin, Bursari Local Government area of Yobe State, in the northeast part of Nigeria.
Leah Sharibu, a Christian schoolgirl aged fourteen at the time of her capture, is the only remaining Dapichi schoolgirl still held hostage.
Mariam Ibraheem, a former religious prisoner of conscience from Sudan, said that she joined the protest to ask President Buhari "where is Leah?" and to know why the Nigerian leader is silent when Christians are being murdered.