Events
News
Opinion
Persecution in Africa
Persecution in Nigeria
No future in the past: is Ambassador Johnnie Carson unfit to lead U.S.-Africa future?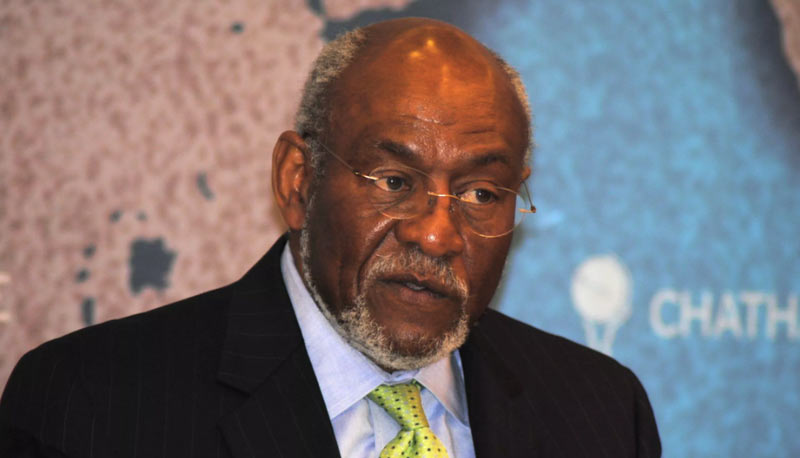 Simon Ateba | Today News Africa | December 26, 2022
In about 100 days, Ambassador Johnnie Carson who has been tapped by President Joseph R. Biden Jr. to serve as special representative for the U.S.-Africa Leaders Summit implementation, will be 80 years old. Carson, who was born on April 7, 1943 in Chicago, Illinois, is married with three children, and lives in Reston, Virginia.
Virtually everybody in the Biden inner circle has described him as a brilliant, seasoned diplomat with a 37-year career to diplomacy in Africa.
The White House National Security Advisor Jake Sullivan described Carson during a December 12 news conference as a man with "a wealth of experience."
"We are looking forward to working with him to ensure that the announcements that get made over the next three days are translated into durable actions that last well beyond the summit," added Sullivan who was speaking at the White House to preview the summit President Biden hosted in Washington D.C. December 13-15.
Secretary of State Antony J. Blinken described Carson during a December 15 news conference at the end of the U.S-Africa Leaders' Summit as "one of our most experienced senior diplomats."
"We know that commitments are only as good as our ability to deliver on them.  That's why we asked one of our most experienced senior diplomats, Ambassador Johnnie Carson, to return to the State Department as our special representative for the U.S-Africa Leaders Summit implementation. With nearly four decades of experience as a diplomat, deep relationships across the region, I can think of no one better to ensure that our words are actually translated into action," Blinken said.
At his own teleconference on December 20 to discuss U.S.-Africa Leaders Summit outcomes, Jose W. Fernandez, Under Secretary for Economic Growth, Energy, and the Environment, also described Ambassador Johnnie Carson, who has a bachelor's in history and political science from Drake University and a master's in international relations from the School of Oriental and Africa Studies at the University of London, as "one of my favorite diplomats ever."
"He is so knowledgeable of the region and he's someone that I have always respected. I worked with him when I was here at the State Department 10 years ago, and I would just sit back and listen to him, and I was always thrilled to, and I learned a lot from being around him.  So I'm really looking forward to working with him.  I don't know when Johnnie will take his position, but knowing him it won't be long," Fernandez said.
Ambassador Johnnie Carson was sworn in as assistant secretary of state for the bureau of African affairs, on May 7, 2009. Before then, he was the national intelligence officer for Africa at the National Intelligence Council, after serving as the senior vice president of the National Defense University in Washington, D.C. (2003-2006).
His almost four-decade foreign service career includes ambassadorships to Kenya (1999-2003), Zimbabwe (1995-1997), and Uganda (1991-1994); and principal deputy assistant secretary for the bureau of African Affairs (1997-1999).
Earlier in his career he had assignments in Portugal (1982-1986), Botswana (1986-1990), Mozambique (1975-1978), and Nigeria (1969-1971). He has also served as desk officer in the Africa section at State's bureau of intelligence and research (1971-1974); staff officer for the secretary of state (1978-1979), and staff director for the Africa Subcommittee of the U.S. House of Representatives (1979-1982). Before joining the Foreign Service, Ambassador Carson was a Peace Corps volunteer in Tanzania from 1965-1968.
So, case closed. Ambassador Carson is great and can lead the implementation of the U.S.-Africa Summit agreements and recommendations.
However, at the U.S. Institute of Peace on December 16, as he interviewed President Muhammadu Buhari of Nigeria, a protest broke out. Nigerians and Americans in the audience felt that he was out of touch with the current realities in Nigeria, that he did not ask the real questions on issues affecting Nigerians and that he was there to do public relations to a very bad leader from Africa's most populous nation.
Emmanuel Ihim, President of Diaspora Alliance, who traveled all the way from Texas, was surprised that Mr. Buhari took no questions from the audience, and that key issues affecting Nigeria were not raised by Ambassador Carson.
Others, like Dede Laugesen, Executive Director of Save the Prosecuted Christians, who protested during Buhari's 'conversation' and was escorted out of the room, described Mr. Buhari as "the mastermind behind the genocide of Christians in Nigeria."
"I'm out here today with my good friends and fellow activists who are protesting President Muhammadu Buhari's conversation here at the US Institute of Peace because President Buhari is the mastermind behind the genocide of Christians in Nigeria," Laugesen said. She added that Buhari is not a man of peace and that she wanted to ask him about Christians in Nigeria.
Faith Mcdonnell, a human rights advocate for over twenty years, another protester, described Buhari's invitation to the U.S. Institute of Peace as "appalling", wondering why an invitation was extended to "the genocidal president of Nigeria" who is "responsible for not only directly, but allowing the continual slaughter of Christians in Nigeria by Boko Haram and Fulani and calling it an issue of climate change.
A Nigerian lawyer who traveled all the way from baltimore said that she was disappointed by President Buhari's showing. She asserted that issues affecting Nigeria, such as corruption and mismanagement of resources were not addressed during Buhari's conversation.
Dr. Gloria Samdi-Puldu, who hails from Adamawa State in northeastern Nigeria, and is the global director of Give Her Voice and president of the LEAH Foundation, traveled all the way from Nigeria, to ask president Buhari about Leah Sharibu, a Christian girl who was among the 110 schoolgirls aged 11–19 years old who were kidnapped by the Boko Haram terrorist group from the Government Girls' Science and Technical College (GGSTC) in Dapchi, located in Bulabulin, Bursari Local Government area of Yobe State, in the northeast part of Nigeria.
Leah Sharibu, a Christian schoolgirl aged fourteen at the time of her capture, is the only remaining Dapichi schoolgirl still held hostage.
These voices mean that while Ambassador Carson is celebrated in Washington by President Biden's inner circle, those who come from Africa or Americans who have been paying attention to recent developments on the continent are beginning to spot the disconnect between Washington and the reality on the ground.
Elderly diplomats like Ambassador Carson may not enjoy the support of young Africans, new generations of leaders in Africa, and as coups and counter coups multiply across Africa, implementing the U.S.-Africa Summit agreements may end up being another 2014 pipe dream.
When elderly people like Carson who have no idea what Instagram or TikTok is are joining African leaders who are also too old and on their way out of power are tapped to drive U.S.-Africa policies, it's unlikely that anything will come out of it as there is no future in the past.