Press Releases
'Save The Persecuted Christians' Coalition Begins Awareness Movement Today; Churches Across America Display Banners Featuring 'Nun' Symbol

For Immediate Release
February 14, 2018
'Save The Persecuted Christians' Coalition Begins Awareness Movement Today; Churches Across America Display Banners Featuring 'Nun' Symbol
WASHINGTON—North Korea, Afghanistan, Somalia, Sudan and Pakistan have in common an appalling attribute: they are ranked as the world's top five countries perpetrating "extreme persecution" of Christians according to the recent World Watch List from Open Doors USA. The list annually ranks the worst 50 countries when it comes to persecution.
Such persecution currently occurs so routinely that it rarely makes headlines these days. For example, according to Open Doors, 255 Christians are killed worldwide every month. 104 Christians are abducted. 180 Christian women are raped, sexually assaulted or forced into marriage. 160 Christians are detained or imprisoned without trial. And 66 churches are attacked. Every month.
In response to such outrages and with a shared determination to protect their victims, scores of individuals and organizations have come together to launch today the Save the Persecuted Christians (STPC) Coalition, (www.SaveThePersecutedChristians.org). Save the Persecuted Christians' mission is to protect Christians worldwide who are suffering discrimination, torture, rape, slavery, banishment and murder—simply because they believe in Jesus Christ.
The goal of the STPC Coalition is greatly to reduce—and to deter—the further, global persecution of Christians. Beyond calling attention to the oppression of Christians worldwide, the immediate task is to disseminate actionable information about ways in which the American people can help those being persecuted. The information includes relevant initiatives of members of the Save the Persecuted Christians Coalition and others.
The STPC initiative also starts today, February 14, Ash Wednesday, by asking faith leaders and houses of worship across America to post banners outside for two reasons: 1) build awareness and 2) encourage engagement by visiting www.SaveThePersecutedChristians.org.
The banners feature the "nun" letter, which has become an international symbol for the oppression of Christians ever since the Islamic State used this first letter of the Arabic word for "Nazarene" to designate homes of followers of Christ targeted for persecution.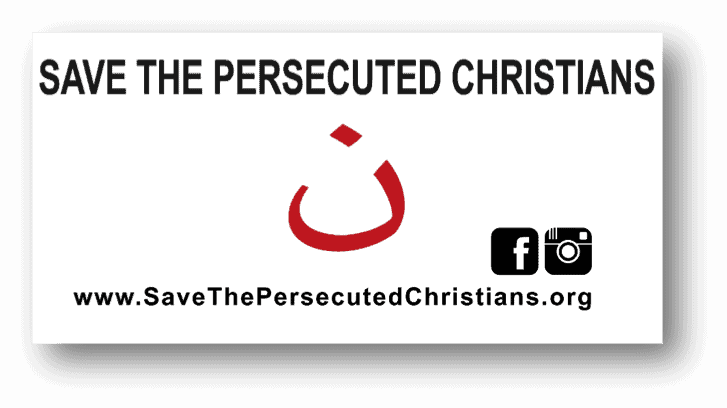 A model for how this Coalition can work is the Save the Soviet Jewry campaign of the 1970s, which started out with banners and signage outside synagogues and churches across America and turned into a powerful political movement and catalyst for policy changes that ultimately helped free the USSR's oppressed Jews.
A banner and supporting materials can be viewed and downloaded at www.SaveThePersecutedChristians.org Other items available include additional information about the Coalition, a pastoral bulletin insert and details concerning partner resources.
Leading members of the Save the Persecuted Christians Coalition include:
Rev. David Barton, WallBuilders
Pastor Paul Blair, Reclaiming Oklahoma for Christ
LTG/Rev. "Jerry" Boykin, Family Research Council
Dr. Mark Christian, Global Faith Initiative
Andrew Coleman, Voices of the Martyrs
Devon Cross, Donors' Forum on International Affairs
Bill Dallas, United in Purpose
Dr. Tim Daughtry, Clinical Psychologist and Author
Tom Doyle, Uncharted Ministries and Author
Bob Fu, ChinaAid
Frank Gaffney, Center for Security Policy
Pastor Mark Gonzales, Hispanic Action Network
Suzanne Grishman, Nazarene Fund
Deborah and Michael Hamilton, Hamilton Strategies
Phil Haney, former CPB Officer and Author
Rabbi Jonathan Hausman, former Students for Soviet Jewry Activist
Jake Hoffman, Rally Forge
Jason James, Resonance Films
Jerry Johnson, National Religious Broadcasters
Tracey Johnson, Credo Strategies
Rick Joyner, Oak Initiative
Kelly Kullberg, American Association of Evangelicals
Dede Laugesen, Save Christian Middle East
Reggie Littlejohn, Women's Rights Without Frontiers
Fr. Andre Mahanna, St. Rafka Mission of Hope and Mercy
Faith McDonnell, Institute for Religion and Democracy
Rev. Johnnie Moore, Kairos Ministries
Pastor Sam Rohrer, American Pastors Network
Zach Sicherman, Faithkeepers
Erick Stackelbeck, Christians United for Israel
Juliana Taimoorazy, Iraqi Christian Relief
Elizabeth Yore, International Child Advocate and Attorney
Gregg Young, Red State Radio Host